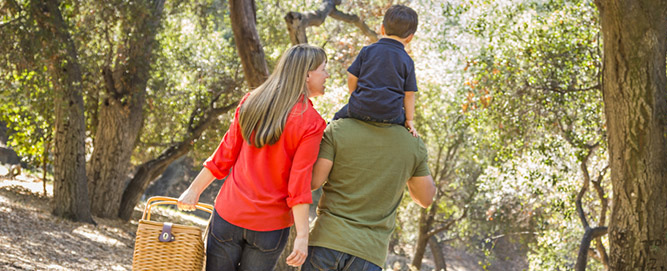 Health Care Reform
What is Health Care Reform?
On March 23, 2010, President Obama signed the Affordable Care Act (ACA) into law. The law put in place a significant number of health insurance reforms that have rolled out over the last seven plus years. Some of the final and most notable changes of the law took effect on January 1, 2014.

The best way to summarize the impact of the ACA is to say that it will make insurance more accessible to you. There are a number of provisions throughout the law that help make coverage more affordable, as well as guarantee access to insurance with a minimum level of benefits.

Primary among these reforms is assistance for individuals and families to purchase health insurance with federal subsidies through the Exchange and expanded eligibility for Medicaid.

Since January 1, 2014, you could no longer be declined coverage or be charged more for health insurance because of a health issue you have now or had in the past. You will also be guaranteed a minimum set of health benefits known as "Essential Health Benefits"
Other notable market reforms include:
Extending dependent coverage to age 26.
Covering with no expense to the consumer of most preventive services and immunizations.
Insuring that all carriers in the individual and small group markets must spend at least 80 cents of every dollar collected from consumers on medical care and services to improve general health.
Prohibiting annual and lifetime dollar limits on essential health benefits.
Finding Affordable Health Insurance
Many Nevadans who do not receive health insurance coverage from their employer may be eligible for premium assistance under the Affordable Care Act or enrollment in the Medicaid program.  For individuals and / or families that earn up to 400 percent of the Federal Poverty Level (FPL) subsidies are available for purchases through Healthcare.gov.  Nevadans can determine the amount of assistance available toward premium or if they might qualify for Medicaid on the NevadaHealthLink.com. The below chart illustrates the levels of assistance available.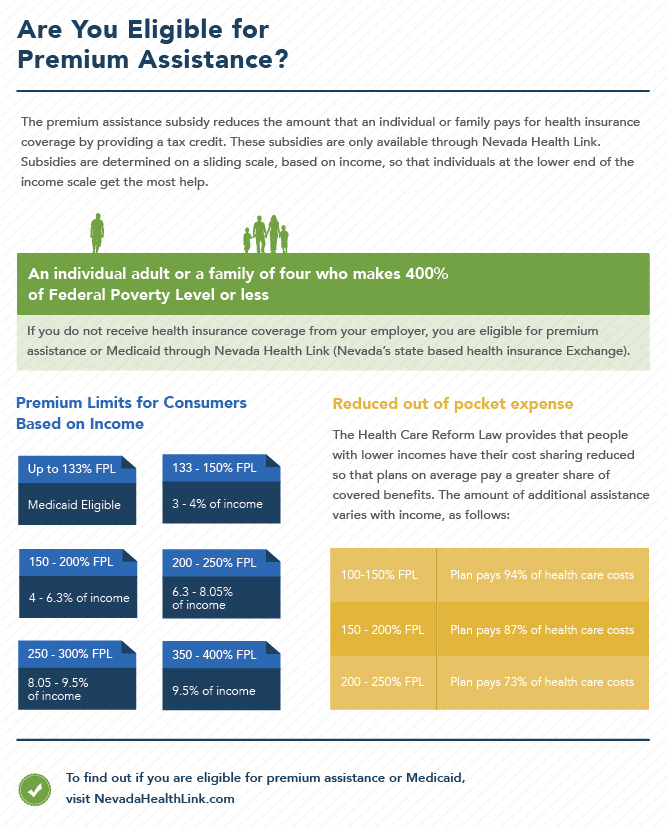 Federal Individual Mandate
It's also important to know that since January 1, 2014, most people will have to have had health coverage or pay a fine. 
The penalty for not having minimum essential coverage is the greater of $695 per adult, $347.50 per child, with a family maximum of $2,085 or 2.5 percent of the family's income.  This penalty will be enforced through 2018.  The repeal of the Individual Mandate penalty in the 2017 tax bill eliminates the requirment beginning January 2019.
The requirement to have coverage can be waived for several reasons, including financial hardship or religious beliefs.
The IRS intends to send letters to taxpayers notifying them that they owe the penalty, and it will also have the power to withhold future tax refunds.
Health Insurance Rates
One result of the ACA is that Nevada expanded its review of health insurance rates. Nevada continues to review all health insurance rate changes in the individual and small group insurance markets. 

The law also requires insurance companies to spend the majority of your premium dollars on health care. This means that insurers selling policies to individuals or small groups must spend at least 80% of premiums on direct medical care and efforts to improve the quality of care or provide a premium rebate to their customers.

A similar requirement applies to large group health insurance; insurers selling to large groups (51 or more employees) must spend 85% of premiums on care and quality improvement.

The Nevada Division of Insurance is committed to consumer protection and transparency regarding the cost of your health insurance. Read more about health insurance rates in Nevada here.
More Information
Read more about how Health Care Reform affects you and your family.