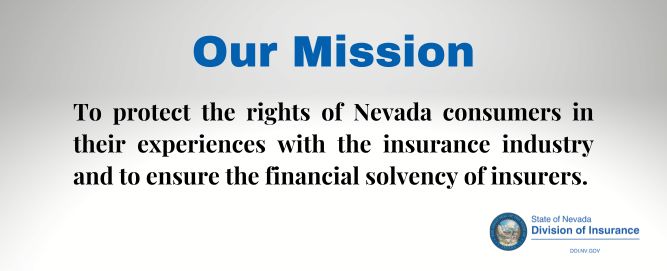 To fulfill its mission, the Division of Insurance ("Division") will advance a sound regulatory environment that is responsive to the insurance needs of Nevada. 
Agency Operations Summary
The Division is charged with protecting the rights of the consumer and the public's interest in dealing with the insurance industry and is responsible for regulating the insurance industry.
The Division's major functions include: 
Setting ethical and financial standards for insurance companies and reviewing rates.
Responding to and assisting consumers.
Reviewing insurance policies to ensure compliance with Nevada insurance laws and regulations. 
Licensing insurance companies, insurance agents and producers.
Ensuring insurance companies are solvent and are financially able to pay claims.
Ensuring companies follow through on the promises made to consumers through insurance policies.
Reviewing programs operated by self-insured employers for worker's compensation.
The state of Nevada is part of the U.S. insurance regulatory framework which is a highly coordinated state-based national system designed to protect policyholders and to serve the greater public interest through the effective regulation of the U.S. insurance marketplace. Through the National Association of Insurance Commissioners (NAIC), U.S. insurance regulators establish national standards and best practices, conduct peer reviews, and coordinate their regulatory oversight to better protect the interests of consumers while ensuring a strong, viable insurance marketplace. U.S. insurance regulators also participate in the International Association of Insurance Supervisors (IAIS) along with the NAIC by participating in major standard setting initiatives, including working with fellow regulators from around the world to better supervise cross-border insurers, identifying systemic risk in the insurance sector, and creating international best practices.  
Impact of the Insurance Industry 
The Insurance industry, which is regulated by the Division of Insurance, is the 4th largest source of revenue to the General Fund in the State of Nevada.

Insurers wrote approximately $22 billion in premium to Nevada consumers by the end of 2021.

Nevada's Insurance Premium Tax provided revenue in excess of $495 million to the State's General Fund for Fiscal Year 2022.

Nevada's insurance market is comprised of 1,652 licensed domestic and foreign insurers, 147 captive insurers and 135 sponsored captive cells, 92 self-insured employers ("SIEs"), and 7 Associations of Self-Insured Employers ("SIGs").

In addition to the traditional market, insurance was placed with approximately 160 non-admitted insurers, known as surplus-lines insurance.
Market Regulation 
In Fiscal year 2020, the Division participated in 3 multi-state examinations, 11 in Fiscal Year 2021, and 1 in Fiscal Year 2022.

The Division called 12 market conduct examinations in Fiscal Year 2021 and called 2 market conduct examinations in Fiscal Year 2022.
Licensed Individuals and Firms 
As of June 2022, the Producer Licensing Section regulated 233,557 licensees comprised of 218,860 individuals and 14,697 agencies.

Of those, there were 22,641 individual residents and 196,219 individual non-residents. Agency licensees consisted of 2,015 residents and 12,682 non-resident firms.
Consumer Protection 
For Fiscal Years 2021 and 2022, the section responded to approximately 25,000 consumer inquires and investigated 5,062 consumer complaints regarding the activities of insurance companies, insurance agents, bail agents, title agents, service contract providers, and other regulated entities.

In Fiscal Years 2021 and 2022 the Division recovered $8,834,567.00 for consumers.
The authorized Division staff for FY 2022 was 88 employees, of which 19 were based in Las Vegas.